You are here: Home / Care Homes / Strathburn Lodge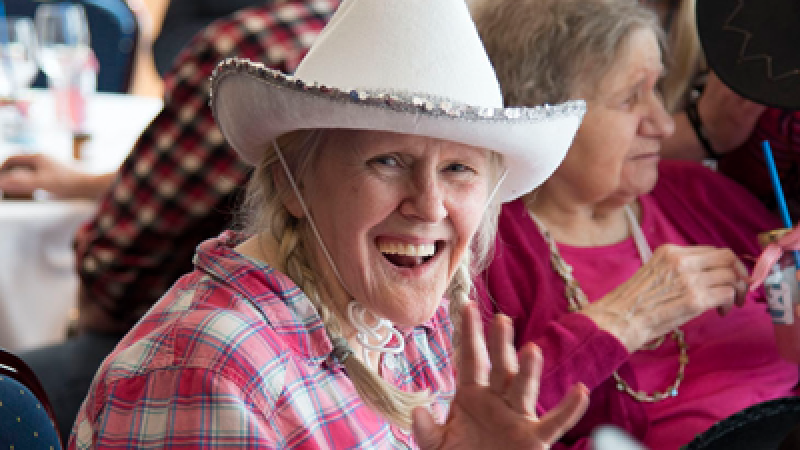 Welcome to Strathburn Lodge, Glenrothes
Strathburn Lodge is a home with four small units of 10. The home was purpose built for people with Dementia which was designed in Australia. It has been open for twenty years with staff who have remained working in the home since its opening in the summer of 1993. All staff have completed understanding Dementia training.
Strathburn Lodge have the first all-male unit environment within the Fife area and has been a great success with meeting people from Edinburgh, Tayside and Glasgow. Younger People having been diagnosed with Dementia were looking for placement, so one of the units was allocated to cater for under 65's only. All the rooms are different due to personal taste and choice.
Residents are involved in many decisions related to the home. Presently we have 4 chickens, a small allotment with herbs and vegetables , a greenhouse with flowers which beautiful baskets are made with and displayed at the entrance. We also sell the baskets with the flower arrangements and buy further stock for next year.
Residents requiring a wheelchair can access a lower step bus from the entrance of the home for travelling to town or to the railway station.
All residents are respected as individuals within the home. Residents are actively involved in deciding any improvements in the home. For example, the MGM café in the foyer and the pamper room.
"My mother has Korsakoff's dementia and has been in the care home setting for a decade now (since the age of 60). We moved her to Abbotsford Lodge a few years ago, after a terrible experience with a different care home elsewhere (I am not allowed to specifiy due to an NDA but sufficient to say the Care Inspectorate upheld all of our concerns). We have never looked back. All the staff genuinely care. That may sound glib but as a hospital doctor I work with adults with dementia and challenging behaviours quite frequently, and being a care home carer is perhaps the hardest job I can imagine. Much of this is due to Jackie's passion and strong leadership. Since moving to the home mum has had her ears pierced (perhaps the oldest person queueing in Claire's Accessories by a few decades!), learned to swim, attended computer classes, and revisited her old passion for art and craft at the local College. Instead of losing her independence the staff work to maximise what she CAN do, so that she still gets enjoyment out of life, and I am content in the knowledge that she is safe throughout this. Most of all, they recognise that, whilst it is their work, it is her home - she is treated like a friend or family member, and when her behaviour is challenging they remember that that is her illness, and not her, talking."
Kerri – Relative

"I began working for Abbotsford in early 2008 in their care home in Glenrothes. At that time, I was new to the care industry, through the help and support available I soon become competent within my role. I had completed my SVQ Level 2 within my first year at Abbotsford. Nearly 10 years later, I am looking forward to starting my SVQ Level 4. As well as studying towards a degree part time. Working for such a supportive company has enables me to do this. During my time here at Abbotsford I have met some interesting people which included residents and staff. People who can make your day brighter. We have here at Abbotsford a great team ethic. This has continued during my time within the company. Everyone here know they have the support of our team members. We also have very loyal staff some of which have been here for 10, 15, 20 years. I also have to mention the nice environment we have here. We have a very nice-looking home fit of purpose, which looks out onto a pleasant looking garden. Abbotsford does appreciate its staff this is show by its annual awards gathering where valued staff are acknowledge for their contribution and long service. In summary I have been with Abbotsford nearly 10 years. I have enjoyed my time very much, partly this is down to the support I have received for my progression is important and I feel Abbotsford care supports me in this. Over my time here I have met some lovely people which helped to make my time with the company so far enjoyable. Once the best things about the company is the staff. We have always had hard working cheery staff who trust each other. I believe if you have happy staff, then this will impact on the residents. They too will be happy and content so its good that these hard-working staff are appreciated and recognised."
Mark – Staff Member
The team at Strathburn Lodge
---